Getting There & Local Attractions
From Camp Middlesex's website:
Take Route 2 towards Fitchburg.

Take Exit 32 for Route 13 North (1st exit after I-190 or last exit BEFORE I-190 if coming from Western Mass/Vermont).

The exit is for Leominster/Lunenburg – At end of ramp, take a right onto 13 North (or a double right if coming from Western Mass/Vermont)

Go under train track bridge bear left (staying on 13 North).

You should pass old Whalom Park on your left.

When you come to a Walmart plaza, take a left onto route 2A, and follow road until you come to a big 4 way intersection with John Fitch Highway (you will see a Dunkin' Donuts and Walgreens on your left).

Get into the far right lane, and take a right onto John Fitch Highway (it's the name of the road) at this intersection.

Follow John Fitch for about 2 miles past a planatarium and baseball/hockey field until you come to an intersection with Ashby State Road (there is an ice cream/pizza place at this intersection)

Take a right onto Ashby State Road, and follow for about 5 miles, until it merges with 119. Just keep going staight!

On 119, you should go straight into Ashby center and should see a sign for Camp Middlesex across from the Ashby market.

Take a left onto South St. before Ashby market.

Bear left at the fork in the road. There should be a sharp curve in road after the fork.

Turn left at top of hill (Ericson Rd.) Drive slowly, because it comes up quickly, there will be a sign for Camp Middlesex here.

Follow the signs to park, and welcome to 4-H Camp Middlesex!
From points West
Take Route 2 east towards Boston

Get off at exit 24, Route 140 North

Turn left at the end of the exit ramp to go north on Route 140

Continue of Route 140 for about 3 miles, until you come up to a set of strobe red lights, this is Route 101

Turn right onto Route 101, and continue for about 5 miles into Ashburnham (you will go past a Mobil station, post office, and Cushing Academy).

Route 101 will stop in the center of Ashburnham, and you will turn right and then left, continuing on 101 until it meets 119 (about 10 miles).

Turn Right onto Route 119, and follow 119 for about 5 miles into the center of Ashby.

Take a Right onto South St. after the Ashby Market

Bear left at the fork in the road. There should be a sharp curve in the road after the fork.

Turn left at the top of the hill (Erickson Rd.) into Camp.
From points South
Take route 84 (Conn to Mass) to Mass Pike (90)

Take Mass Pike (90) East

Exit 10 off Mass Pike (I-395/Auburn/I-290/Worcester)

Merge onto I-290 Worcester (towards Worcester ~ 9 miles)

Exit 19-20 off I-290 (Towards I-190)

Merge onto I-190 North (~19 miles)

Rt. 2 West (only 1 exit to Rt. 32/13N)

Go to step 2 of the "From points East/North" directions above
Boston – Fitchburg Commuter Rail (One-way fare : $5.75)
Scheduling information can be found at www.mbta.com
4H Camp Middlesex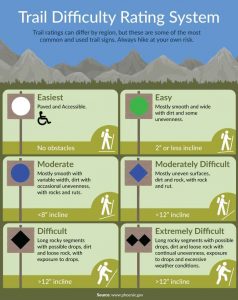 The terrain of the campsite is that of a rugged New England forest. There are rocks and gullies and some mild-to-steep inclines. The majority of the campsite would be between "moderate" and "moderately difficult" on the hiking chart infographic to the right. The fire pit is at one of the higher points on site while the dining hall is at one of the lower points. We advise that you be familiar with mild hiking to be comfortable during the weekend.
From Camp Middlesex's website: "Nestled in the foothills in the northwest corner of Middlesex County, Camp Middlesex on Erickson Road in Ashby, Massachusetts displays [as unique an experience] today as it did when first sighted by a camp committee in 1941. A 1700-era Grist Mill and Saw Mill are connected by the covered footbridge over the water of Willard Brook. A very sturdy bridge spans over the water dam, and is the only access to the seventy-five acres of beautiful rolling fields and trails. A farmhouse beside the main road has a barn attached to it, and another barn is about 200 hundred feet up the paved road. The stable is located down a woodland path out in the hillside close to the lowest part of the property where the water cascades over moss covered rocks."

Click for what to expect weather-wise, as well as a live link to current weather onsite.

Autumn camping in New England can be incredible provided you're properly prepared. Click to see practical, esoteric, and family-minded lists of items that will make your enjoyment of BAM that much greater.
As Druids we love being out in nature. Click for a quick guide to make sure that nature will love you back.